THE WAY OF 7 CHAKRAS HARMONIZATION
Ayurveda massage is an Indian ancient therapy which brings equilibrium to the 7 Chakras. It can only be performed by an experienced Asian therapist, so maybe this is the first & most important thing very few knows.
At Balinesse Spa you can have this rare massage in the Indian authentic style with therapists from Bali, the exotic island well known for its world top quality therapists.
CHOOSE BALINESSE SPA BUCHAREST
Exquisite Location
Our salon is placed in Dorobanti, an exquisite Bucharest area.
Balinese Therapists
Professional Bali Team is well-known for Indian relaxing & healing procedures.
Authentic Ayurveda Massage
7 chakras harmonization technique, traditional & unique in Bucharest.
ABOUT AYURVEDA MASSAGE
Ayurveda massage is one of the most frequent forms of therapy in India and Indonesia.
This type of massage is over 3000 years old. Its secrets are known very well by our therapists that come from Bali island, a territory belonging to the Indonesian archipelago.
During antiquity, there were some Ayurveda centers and clinics in Asia, but they were sought after only by the patients who needed special treatment. This situation was due to the fact that the Asian population had advanced knowledge of Ayurveda massage, so anybody who needed treatment had only to ask a friend or relative.
Ayurveda therapists that practiced free fighting, developed a  special system that combines Ayurveda knowledge with the Udani techniques.
This medical system was later developed by ancient Greeks. Combining the two medical systems with traditional techniques: press-puncture and Oriental therapeutic massage, the Ayurveda style emerged.
Ayurveda uses special oils with the purpose of spreading heat throughout, nourishing the skin of the body or scalp with nutrients and vitamins. These oils are fantastic for the skin, strengthening the nervous fibers that are connected to the hair follicles. Applying the oils in the cervical area we calm the nervous system, improve memory and sight.
Combining a variety of relaxing techniques by applying special oils, therapeutic body massage, reflexology and press-puncture, all in a 90 minutes session, Ayurveda massage helps you relax your body completely and regain your good will. You can choose one of the two types of Ayurveda massage, The Classical or Shirodara head massage. The last one is applied only to the scalp, its objective being mental relaxation and improved hair health. You can also combine the two types in one session.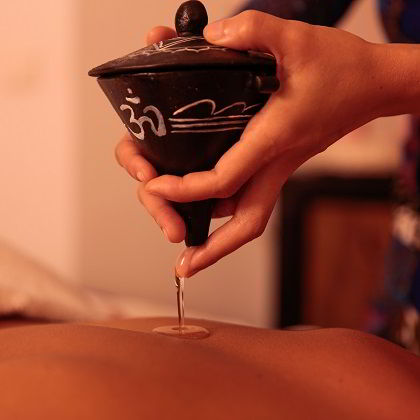 Our Asian therapists use the techniques professionally, starting to work on your body, from head to foot, the other way round from classical massage.
We will use press puncture at low, medium, or high intensity, according to your desire. However, Ayurveda is a very soft massage with the use of a lot of quantity of oil, so in most cases, the intensity is not a problem.
The therapist dealing with you will ask you to remove most of your clothes and lie on the massage table. Your muscles will be stretched and kneaded. She will apply pressure in some areas corresponding to the organs of the body. She will use 100% natural oils.
After the session is over, you can use the shower to wash away the oil remains. You don't have to bring your own towel or dressing gown; we will deal with this aspect.
HARMONY, BALANCE, LIFE.
Applying Ayurveda demands skills developed in many years of experience. The style is related to Balinese massage that also focuses on energetic equilibrium and brings harmony in life.
If you are in one of the following situations, it means you need Ayurveda massage:
You don't have energy, feel tired, you have an agitated sleep;
You lack motivation, are stressed and depressive;
Your muscles are continuously tensed or not toned;
You have problems eliminating toxins from your organism;
You have problems related to blood circulation and articulation stiffness;
You are not pleased with your skin's texture, lacking in vitamins and shine;
You have problems with obesity or infertility, psoriasis, asthma, rheumatism or other similar chronic ailments.
If your hair is regressing or it looks dull and untidy due to lack of vitamins, the Shirodhara Head Massage (part of Ayurveda massage) is the ideal solution.
These frequent illnesses or problems will be cured or ameliorated by our Asian therapists. They will help you improve your health. We guarantee that after a professional Ayurveda massage, you will feel better than ever!